What is the meaning behind the James D. Rielly Foundation logo?

The "mark" in the James D. Rielly Foundation logo is a four leaf clover. According to Irish folklore, the four leaves of the clover represent: hope, faith, love, and luck.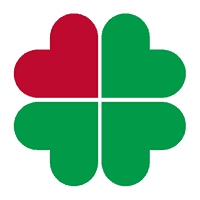 The clover represents the immense pride Jim Rielly had for his Irish heritage. Jim would often jokingly refer to himself as the Visible President of the Leprechauns.
The shade of green in the clover is the same green in the flag of Ireland.
Each leaf in the clover is in the shape of a heart. The single red leaf (or heart) represents the love Jim Rielly had for his country, the community, and the less fortunate.
The red also symbolizes Jim Rielly's role as Santa Claus and his love for all children.

Lastly, the single red leaf among the three green leaves, represents Michael Rielly's Italian and Irish heritage and the continuing of his grandfather's legacy as Santa Claus.